Prostate Awareness Research and Treatment (P.A.R.T.) foundation is an organization committed to provide innovative medical research, caring patient support and offering the best comforting patient care available. It is our priority to help the patients and their families deal with Prostate Cancer and its effects.

Our mission is to create awareness about prostate cancer the leading cancer among men. Prostate Cancer is the second leading cause of male death in the United States. Every year over 232,090 men are diagnosed with prostate cancer, and about 30,350 die. Majority of deaths from prostate cancer are related to advanced disease with metastases. If detected early, prostate cancer is often treatable.

Our endeavors involve research regarding the diagnosis and treatment of prostate cancer. The funds raised through donations will be used to provide assistance to patients who can't afford treatment. Dr. Razdan will perform a surgery free of charge to one patient a month with all expenses covered by the organization. We believe in treating and providing the best support services such as patient mentoring, educating and creating awareness of prevention and treatment options for the patient and the family members. As well as expand patient support services and promote community education.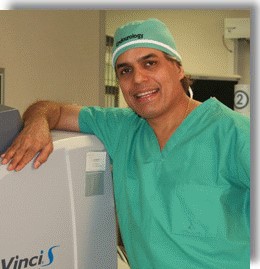 DR. Sanjay Razdan, M.D., MCH
Founder
Video of patient's experience with
Prostate Cancer Surgery